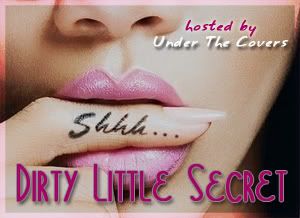 Dirty Little Secret
is a weekly meme hosted by
Under the Covers
. Every Thursday we get to know other bloggers and our readers more intimately by asking them a question hoping to reveal their dirty little secrets.
This week's question:
What are your top 3 movies?
Let me start off by saying that I really dislike trying to choose my top 3 anything! There are many different reasons to like different movies and to pick just three is extremely difficult! These aren't in any particular order, they are just a few of my favorites.

Top Gun - I have loved this movie since I was a little girl. It actually came out the year BEFORE I was born but that never mattered to me. I used to sit in the living room and rewind the part where Tom Cruise and Anthony Edwards sing "You've Lost That Lovin' Feeling" because I had a huge crush on Tom Cruise. As I got older, I enjoyed the movie for more reasons than that. I can actually quote most of the movie now.. it will forever be a favorite.
The Notebook - Typical response, I know. To be quite honest, I've loved every movie based on Nicholas Sparks' novels. This one however is the most amazing love story. The acting is incredible and the story is so romantic and it just feels real to me. I still cry every single time I watch it. My heart breaks at certain points during it even though I know what's going to happen.
Nothing To Lose - Comedy at it's finest. Tim Robbins and Martin Lawrence are so great in this. For some reason every time I mention this movie to someone, they've never heard of it. It drives me insane! I first saw it when I was 12 with my best friend and we would literally watch it EVERY SINGLE WEEKEND. I can quote every line in this movie and I still cry from laughing so hard each time I watch it. Definitely a must see.
Well that concludes my picks, have you seen any of these movies? How do you feel about them? What are YOUR top 3 movies? let me know!!!!